Marineland, an aquarium and sea life centre on the Côte d'Azur, were looking for reliable safety transformers for their dolphin lift: EREA provided the solution! Where? At EREA's webshop (an easy place for foreign clients to place orders if there isn't a dealer in their area). What guided their decision? A winning combination of proven quality, clear information and professional support. 
Safety first
It's pretty obvious that there's plenty of water at an aquarium and sea life centre! That means that all the technical facilities must be safe to use in a wet environment, with no risk of electric shock. The transformers for the dolphin lifts in the Dolphinarium are a case in point. It's essential for the safety of the animals and their carers that these should be provided with a safety extra low voltage (SELV) power supply. We all know that water and electricity don't mix well!
Intensive use
The quality and reliability of the equipment was also a significant factor in Marineland's choice. The park is in full operation throughout the year, so a breakdown affecting the dolphin lifts must be avoided at all costs. EREA's robust and reliable safety transformers ensure that the dolphins can take the lift safely and dependably right through the year.
Sustainability in mind
Marineland contribute to a sustainable future by helping to conserve biodiversity on our planet, while EREA play their part by seeking maximal energy-efficiency, thus helping achieve the energy transition needed to create a more sustainable world.
EREA, your reliable supplier of safety transformers
EREA's safety transformers are therefore a perfect fit with Marineland's requirements. With no dealers nearby, Marineland like most other international clients placed their order directly through EREA's webshop. What finally sealed their decision was EREA's customer-focused approach. The technical file on the website provided Marineland with all the technical specifications they needed to achieve a trouble-free installation. The equipment arrived on their doorstep within 24 hours, with friendly and expert advice available by telephone or email. 
In short, easy ordering from the webshop, with a personal touch!
EREA: making waves for WOW-Company!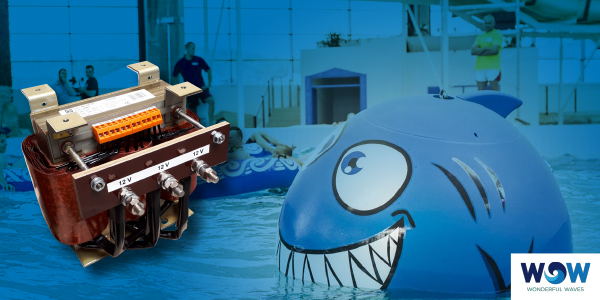 WOW-Company, a business developing technology for tropical water parks and wave pools, also called on the services of EREA. We developed multi-voltage transformers to safely power their WaveBalls and create fun waves