Flexible solutions for energy-efficient lifts and escalators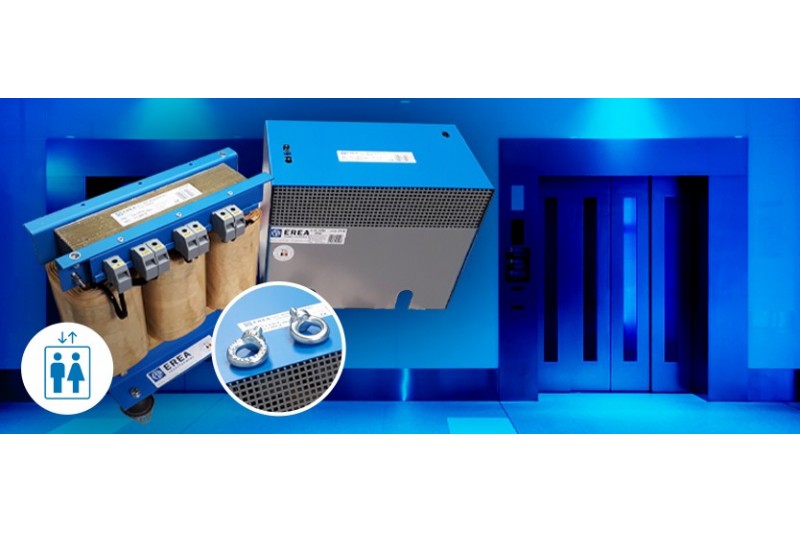 Here at EREA we are constantly on the lookout for innovative solutions for specific applications.   We have, for example, developed transformers for vehicle charging stations, solar panels and HVAC systems. And now we're adding energy-efficient transformers for lifts and escalators to that list.  So whether you're urgently looking for a standard transformer or perhaps a custom solution, you'll find EREA a dependable partner for high-quality, energy-efficient transformers.
Energy-efficient
In order to qualify for the energy label, liftmakers must ensure that their lifts are energy efficient. This is a crucial issue for them, as their customers will all be looking for that energy label when selecting a supplier for their lifts. 
In certain circumstances however a transformer will be required, for example because of an atypical electricity grid. If at your place there is an electricity grid system of 3x230V supply, this must be converted for use with lifts, which generally work on 3x400V.
The transformer is an additional element in the overall installation and will therefore have an impact on total energy consumption. This means that keeping energy losses to a minimum is crucial, not least because lift manufacturers risk claims if a lift fails to qualify for the required label.
So for both the lift manufacturer and the end-user or manager it is essential that high-quality, energy-efficient transformers are selected. EREA's transformers offer that quality and are suitable for all installations and every brand of lift (OTIS, KONE, Schindler, Thyssenkrupp and more). Over time, a well-chosen transformer will yield substantial savings in energy and, consequently, a lower Total Cost of Ownership (TCO).
Plug and play
What you need is a transformer that will slot seamlessly into your installation, whether it's the lifts in a new building or an office or apartment renovation project.
EREA can help you make the right choice. In EREA's standard range you will quickly and easily identify transformers to match the specific requirements of your project.
We're also happy to help you find the appropriate transformer as required by your lift traffic plan, taking account of the frequency of lift movements at specified times, downtime, the weights to be carried, travel distances and so on.
Quality ultimately depends on the transformer
No matter how well a lift or escalator is built, if the transformer is of lower quality or less energy-efficient this will have a negative impact on the entire installation. EREA lifts are therefore built using exclusively the best materials: high grade silicon steel laminations for the core and the right amount of copper.
Operational reliability guaranteed
Our energy-efficient transformers for lifts feature low inrush current (IRC), meaning that they can be protected on the basis of the nominal current. The techniques used in manufacturing our lift transformers prevent the occurrence of peak inrush currents on start-up. The supply network in an existing installation will therefore not require uprating. Low IRC thereby contributes to improved operating reliability. Following a power outage the lift will restart automatically, without the risk of blowing the fuse and consequently, without any requirement for an intervention by a service engineer.
Accessories for improved convenience and safety
But don't get the idea that we're only interested in energy efficiency at EREA. Take a look, for example, at the accessories we have developed for our lift transformers. We have vibration dampers to reduce nuisance noise throughout the building, while our IP20 protective housings provide optimal safety and prevent accidental contact. And ergonomics hasn't been overlooked either. Lifting eyes are provided to allow easy transport and smooth installation in the lift's machine room.
Find what you're looking for fast with our speedy selection card
You don't want to waste your valuable time searching for the right transformer for your lift or escalator project. So we've created a handy speedy selection card* to speed up and simplify the process for you. 
*currently available in French and Dutch only
Contact us for expert advice on lift transformers or to discuss a custom solution.